WE DEVELOP SMART FINANCING STRATEGIES
In addition to the purchase price, rent, and quality of the property, an optimal financing strategy is an essential component for the success of your project.
The importance of choosing a project partner best suited to realise your project is often underestimated, but it is precisely these factors that hold the key to success. Thanks to our analytical competence, our resilient network, and our 35 years of experience, we are confident we are the right partner to optimise and realise your real estate investment.
Forward-thinking investors should regularly analyse their existing loan portfolio, actively optimise its structure, and check it against changing market and interest rate scenarios. We are happy to support you in this process and ensure that the earning power of your property is increased sustainably and your return on equity is raised.
As a leading specialist in this field, we are able to develop individual solutions that fit your entire financing portfolio at any time.
Execution OF A FINANCING TENDER
We analyse your project and evaluate the potential added value provided by P.A. GmbH.
Together we agree on the arrangement of all available documents.
If necessary, preparation of alternative financing options (fixed interest rate, repayment, liability, expiry of financing, etc.)
We develop an optimal presentation for financing institutions
Clarification of blocking clauses
Invitation and coordination with potential partners
We present all tender results to you and negotiate with the financing institutions.
SELECTION OF FINANCING PARTNERS
We procure all contract documents and attachments for you (e.g. land charge order, etc.).
We ensure compliance with all contract-relevant and agreed-upon issues and accompany you until the financing is paid out.
WE KNOW THE MARKET AND THE opportunities
It is often technical parameters such as the amount of repayment, interest rates, and maturities that determine the return on the equity invested.
Regulatory requirements and the interaction of the partners involved are also decisive. This is because credit institutions are often subject to stricter regulations on lending than pension funds, private lenders, or insurance companies.
We are familiar with the regulatory challenges of all potential project partners and are therefore able to identify the perfect financing partner for your project. With this we can position it in such a way that it fits seamlessly into their loan portfolio. This enables us to achieve conditions that often far exceed your expectations. In addition, we can show you ways to optimise your real estate portfolio from a tax and corporate law perspective as our extensive network of tax and law firms as well as other experts will be happy to help you.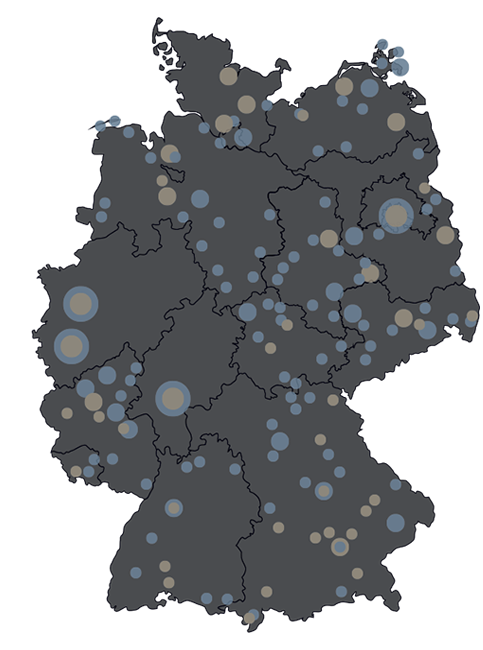 Unsere Projekte und Finanzierungspartner
Finanzierungspartner

Projekte
EFFECTIVE CONCEPTS FOR AN IDEAL ASSET TRANSFER
"We are an expert team that takes into account the tax and legal aspects of your real estate project and works with you to make it a success."
Asset transfer is about life achievement, about gratitude, about family, sometimes about justice, and always about emotions.
In practice, it is about finding the right answers to important questions and the right solutions when you want to pass property on to family, friends, or trusts.
We can support you in this endeavour and show you effective concepts for a strategic transfer of assets. We can work with you to ensure that your real estate is transferred in the most effective manner from a tax and company law perspective. We coordinate with your advisors and offer you our tried-and-tested network of specialised tax law and law firms, as well as notaries and surveyors. We will guide all parties involved in the process to an end result most desirable for you. With our experience and knowledge of the most effective processes and procedures, we will save you time and money.
WHO WE ARE
We are the most significant consultancy for commercial real estate investments in Germany.
12 billion Euro in active interest rate management
About 350 financings per year

We manage financings throughout Germany

Our clients: Private investors, real estate companies, funds, etc.
experience in commercial real estate financing

Excellent reputation with investors and financing partners